Low Back Pain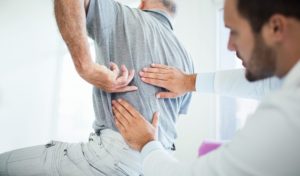 Low back or lumbosacral pain is the single leading cause of disability worldwide, according to the Global Burden of Disease 2010.    Physical therapy is a cost effective and non-invasive way to heal your back pain.  Physical therapists are trained to help relieve low back pain and limitations caused by lumbar radiculopathy, lumbar stenosis, spondylosis, herniated or slipped discs and sciatica.  Our therapists will work with you to design a program which may include spinal mobilizations and manipulations as well as exercises to target your specific flexibility and stability needs. It can be as simple as addressing a few of these things and developing a plan to address your deficits. It can be surprising how simple back pain rehabilitation can really be!
The causes of your back pain can be from an injury like a recent car accident or slip and fall. However, the problem most often develops over time due to a variety of factors. These can be physical such as a lack of movement variability or exercise, decreased strength, physical movement pattern abnormalities, and decreased flexibility. Conversely, these factors can be psychological in nature as well. Increased fear of physical activity, loss of personal identity, increased stress, lack of sleep, and anxiety can play a major role in your pain. These can result from past experiences or traumatic events in your life. At Quincy Physical Therapy, we address both of these factors in order to decrease your pain and ensure long term success and self efficacy.
Active Versus Passive Treatment
At Quincy Physical Therapy, we consider ourselves experts of manual therapy as well as, most importantly, exercise prescription and strength training. We will more than likely utilize both to get you to where you want to be. In order to improve your capacity and ability to perform tasks, we must become more flexible and stronger. This can not happen through passive treatment alone such as injections, massage, surgery, etc. Improving your pain requires some hard work and behavioral/lifestyle changes. Advising you on the correct things to do at home and in the clinic is the most important piece of what we do. This is the key to long term success and allowing you to be able to treat yourself in the future to reduce the severity of your symptoms.
It is always important to recognize and look back at past volumes for your pain levels as well. Some of these pains and sensitivities arise when we do something our body is not ready for. That could be running a few extra miles then you are used or shoveling snow for the first time this season. In order to get better at preparing for activities that we have to perform is to get stronger and more flexible. This gives our back and whole body resiliency to recover quicker as well as decrease risk in the future. Let Quincy Physical Therapy provide you the framework to get started and use us as long as you need to!
Diagnoses We Treat
Low Back Pain
Lumbar Sprains/Strains
Sciatica and Radiculopathy (Radiating Pain)
Common Symptoms Treated
Band across your back feeling of discomfort
One sided low back pain
Symptoms traveling into your hip and down your leg
Feeling "stuck" or "out of place"
Pain in the center of your back
Scoliosis Pain
Discomfort in between your shoulder blades
How We Will Improve
Identifying the true cause
Using Manual Therapy Techniques to reduce your low back pain such as Massage, Dry Needling, Spinal Manipulation
Creating a unique plan for your specific condition addressing physical and psychological factors
Relieving your back pain through enjoyable exercise and optimism
Restoring your normal motion, flexibility, mobility
Strengthening the supporting muscle
Returning to your normal activities with no limitation and high confidence
Creating an extensive home exercise program that progress on the gains made in therapy
At Quincy Physical Therapy, we work with all stages of recovery from acute to chronic pain in the lower back region. Do not let your pain dictate your life. Take control by allowing us to coach you and adjust the modifiable factors in your life. This will give you the best chance at a full recovery with decreased fear and pain levels. Our goal is your goal! 
If you would like to learn more before coming into Quincy Physical Therapy, give us a call at 617-481-2000 and ask to speak to a therapist regarding your symptoms or condition. You can also schedule a discovery session to learn more in person as well without committing to starting therapy.
Follow Quincy Physical Therapy on Facebook, LinkedIn, and Instagram!
To learn more about conservative measures that do not involve surgery, we highly recommend Dr. Richard Mazzaferro and his team at the Quincy Spine Center