Neurological Conditions and Physical Therapy for Balance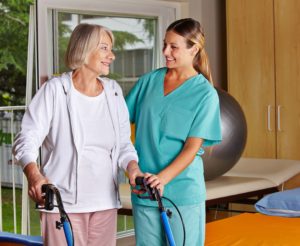 Neurological conditions can present in a variety of ways such as a decrease in balance and need for physical therapy.  Some presentations, the world is familiar with, such as multiple sclerosis, Parkinson's disease, and ALS; but many we don't have names for.  Physical therapy can help at any stage of the game.  Our therapists can help you regain strength that you may have lost, help with balance changes, and address limitations that you may be experiencing in your daily life.  We can also assist with developing a home exercise program to maintain what you have and prevent further decline.  
Our physical therapists can also make recommendations for adaptive equipment in the home to make your life easier as well as family and caregiver assistance to help those you may be involved in your care.  The primary goal is to make you as independent as possible while pursuing the activities that you love.  One on one treatment sessions will allow you and your physical therapist to spend time on the treatments and information you need most where you are today. Neurological rehabilitation can be implemented in the early stages and late stages. Our most common is treating balance and strength issues for physical therapy. Quincy Physical Therapy will prove to you it is never too late to improve your function and independence!
Fear of Falling
Fear of falling continues to be one of the biggest reasons for loss of independence in our geriatric population. Older adults after they have fallen become very fearful. This leads to a decline and desire to move and progressive weakness. More importantly, psychologically their confidence declines. Exercise, activity, and independence are crucial to this population.
At Quincy Physical Therapy, our therapists are trained and well experienced in rehabbing these patients. To watch someone going from being fearful and dependent to completely independent is the reason we do our job. Empowering and restoring life into these populations is crucial for their long term quality of life and health. We assess their baseline levels in balance, strength, and flexibility and create a plan that is tailored to them. It is important to gradually improve with graded exposure and progressive intensities. Challenging them but not going at too fast of a pace keeping them safe and motivated.
Neurological Conditions We Treat
How Physical Therapy Can Help
Regaining Strength and Flexibility
Improving Gait Pattern and Ambulation
Improving Balance  and Reducing Fall Risk
Regaining Independence
Improving Quality of Life
Assistive Device Training
Improving Activities of Daily Living
Return to Exercise and Recreational Activity
Falls Prevention Programs
If you would like to learn more before coming into Quincy Physical Therapy, give us a call at 617-481-2000 and ask to speak to a therapist regarding your symptoms or condition. You can also schedule a discovery session to learn more in person as well without committing to starting therapy.
Follow Quincy Physical Therapy on Facebook, LinkedIn, and Instagram!