Post-Operative/Surgery Physical Therapy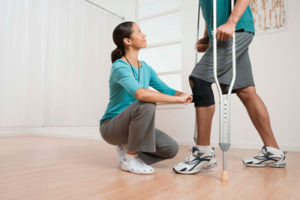 There's nothing that stops you in your tracks more than surgery from a reconstruction, replacement, etc.  Rehabilitation from any orthopedic, foot and ankle, or upper extremity surgery is extremely taxing. Physical therapy after surgery is tough, but it is key to getting you back to the things you want to do. The trauma to your body has a huge effect on your strength, mobility and overall function. Our primary focus will be restoring your ability to return to the things you love. We have extensive experience and have formed lasting relationships with most surgeons in the area. We have observed many of our patient's procedures in the operating room for a better understanding of your rehabilitation needs.  Our therapists work closely with your surgeon to design a rehabilitation program to maximize your outcomes.  We spend time explaining what to expect during the different states of recovery and guide you through each phase.  Our goal is to work with you to ensure you understand your rehab and help you get back to your pre-injury activities.
Your physical therapist will address the two main areas of concern for anyone after an operation: loss of strength and mobility that results in a loss of function/use.  Our team will work on restoring the joint motion and surrounding muscle strength. This includes the surgical site but also the areas above and below to allow you to recover stronger than ever before. Achieving your goals in the most efficient manner possible is paramount to us. 
Common Types of Surgeries Seen
Total Hip Replacement
Total Knee Replacement
Total Shoulder Replacement
Rotator Cuff Reconstruction
ACL Reconstruction
LCL Reconstruction
PCL Reconstruction
MCL Reconstruction
Shoulder Labrum Repair
Hip Labrum Repair
Laminectomy
Lumbar/Cervical Fusion
Shoulder Arthroscopy
Knee Arthroscopy
Hip Arthroscopy
Shoulder Arthroscopy
Muscle Tear
Osteotomy
Bunionectomy
Bone Breaks/Fractures
Ankle Ligament Tears
Ankle Fusion
Hip Hemiarthroplasty
Partial Knee Replacement
Patella Dislocation
What To Expect on Your First Day
Your First Visit will be an evaluation or assessment of your current status and formulation of goals and home exercise program so we can get start our path to recovery!
Plan on bringing your prescription or protocol from the doctor to ensure we are on the same page (We can always call and find this out as well)
Please arrive 10-15 minutes early to fill out any required paperwork and to explain your insurance benefits to you
Dress Comfortably to allow exposure of surgical site and allow for free movement
A positive attitude! Physical therapy after surgery is tough, there will be ups and downs. Important to stay optimistic and keep your head up!
Pre-Habilitation or Pre-Surgical Treatment
If your surgery is a planned surgery such as a total joint replacement or another orthopedic surgery, this might be for you! It has been shown that coming to physical therapy prior to your surgery can be highly beneficial. What we will work on in pre-hab is restoring any motion or strength lost due to your injury or condition. This is extremely important because restoration of full motion is our number one priority in the early stages of rehabilitation. Any motion or strength lost prior to surgery is a lot harder to gain after due to the trauma that the surgical procedure brings. Getting you back to functioning to where you want to be post surgery as fast as possible is our number one goal. In the right situations,  pre-habilitation gives us the best chance at achieving that.
We are always here for a phone consult or a discovery session if you are unsure if this would be most beneficial in your own specific situation.
Follow Quincy Physical Therapy on Facebook, LinkedIn, and Instagram!