Chronic Pain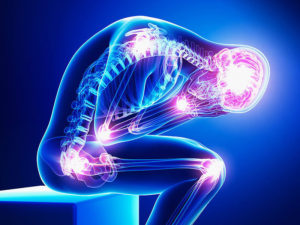 Chronic pain can be caused by an injury which your brain interprets as a threat to a person's well-being based on the many signals it receives from the body and it can be treated through physical therapy.  The way our bodies react to pain and stimuli is different for every person, and our goal is to help you understand what your body is trying to tell you.  Our therapists undergo extensive pain science education not only to help your physical tissues, but to also retrain your brain, and to educate you about the process.  We understand all of the different dimensions that affect chronic pain.  We hope to empower you over your pain so that you can get back to the life you want to live without the fear of pain.
Our advanced training affords us the ability to quickly and effectively identify impairments that may be adding to your chronic pain using the best, current evidence for evaluation and treatment. We blend a variety of manual therapy techniques like spinal manipulation, dry needling, and instrument assisted soft tissue mobilization with an active exercise based approach to achieve outstanding outcomes.
Chronic pain has an incredible association with our brain and psychological factors. It does not always have to be related to tissue damage or physical. We focus on this side of the puzzle as well as the physical side to give you the best plan for long term success!
Chronic Pain Conditions We Treat
Arthritis
Repetitive Stress Injuries
Nerve Damage or Neuropathy
Lyme Disease
Complex Regional Pain Syndrome or CRPS
Lymphedema
Traumatic Events or Injuries
Wear and Tear
How We Treat
Behavior/Lifestyle Changes
Consistent Routine Exercise
Muscle Strengthening
Mobility and Flexibility
If you would like to learn more before coming into Quincy Physical Therapy, give us a call at 617-481-2000 and ask to speak to a therapist regarding your symptoms or condition. You can also schedule a discovery session to learn more in person as well without committing to starting therapy.
Follow Quincy Physical Therapy on Facebook, LinkedIn, and Instagram!