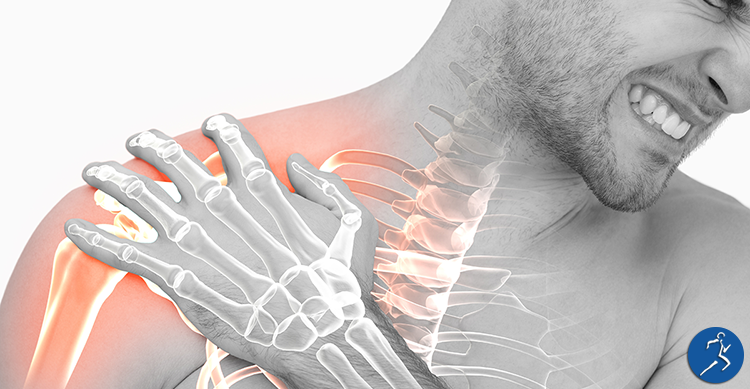 HOW TO RELIEVE SHOULDER PAIN
Do you have aching shoulders? Do you know that the problem could be a result of rotator cuff damage or a lack of activity? That's right, your shoulder pain that comes along with certain motions or that you notice during sleep could be a result of rotator cuff issues.
 WHAT DOES THE ROTATOR CUFF DO?
Like most parts of the body, we don't think about our rotator cuff until there is a problem. However, your rotator cuff issue can have a great effect on your shoulder pain. In fact, you use your rotator cuff many times a day to do even basic activities, such as throwing a baseball, lifting objects over your head or even brushing your hair and teeth. The rotator cuff's role is made up of muscles that surround your shoulder joint, which guide your shoulder as it moves. Therefore, when your rotator cuff becomes damaged, this can result in poor range of motion in the shoulder and inflammation and pain.
Here is a five minute video on how it functions: https://www.youtube.com/watch?v=MCMEidPFfgw
HOW DOES A ROTATOR CUFF BECOME WEAKENED OR INJURED?
Usually, an injured rotator cuff is a result of you moving your shoulder in a forceful or repetitive movement. The injury itself is pretty common, especially when you get older. However, an injured rotator cuff can occur in anyone, no matter his or her age. It is more commonly seen in older individuals, though. In fact, studies show that 30% of individuals under the age of 70 and 70% of those over the age of 80 have experienced a rotator cuff tear. These can be from traumatic or atraumatic causes.
HOW TO RELIEVE SHOULDER PAIN FOR GOOD:
Thankfully, there is hope for you and your shoulder pain. This recovery comes with strengthening the shoulder and practicing proper motion. You can successfully strengthen your shoulder joint by utilizing anti-inflammatory treatments, such as ice applications, cortisone injections and medications, along with physical therapy. Your goal isn't treating the rotator cuff itself, but instead, healing the muscles and tendons, which is accomplished by the methods just mentioned.
SPECIFICS ON HOW YOU CAN IMPROVE YOUR SHOULDER PAIN: WHAT CAN YOU DO?
The following are some easy-to-follow tips to improve your shoulder pain:
Move! Use It! Light and progressive strengthening exercises can help decrease your pain levels and allow your shoulder to become more resilient at the same time!
Hug a pillow while you sleep, tucking the pillow deep in your underarm. This works by keeping your shoulder joint properly spaced.
Stand against a wall and squeeze your shoulder blades back and together. Be sure you don't shrug your shoulders. This exercise will help to get your body in different positions to disperse the load you put through your shoulder.
Avoid heavy lifting too quick and too soon. Make sure if you are going to get back into lifting you are doing it progressively and peaking at a certain point that is down the road. Get Assessed by a PT or strength coach to make sure you are starting at the right point.
WHAT HAPPENS IF THESE TACTICS DON'T MAKE THE PAIN GO AWAY?
Come see us! If your pain doesn't go away in 3-4 days of making these changes, you should seek help from a physical therapist. The purpose of physical therapy is to improve the function of the muscles surrounding your shoulder. Physical therapy specifically targets the small, but significant muscles in the shoulder that are often neglected. When you strengthen these muscles through physical therapy, you can better compensate for the damaged tendons. It can often provide a framework for the right plan to help you get better!
If you would like to learn more before coming into Quincy Physical Therapy, give us a call at 617-481-2000 and ask to speak to a therapist regarding your symptoms or condition. You can also schedule a discovery session to learn more in person as well without committing to starting therapy.
Follow Quincy Physical Therapy on Facebook, LinkedIn, and Instagram!